Like you, we've had to adapt to a global pandemic. As a company, we began (and continue to) work from home, but we've been working hard as ever to support educators and help them prepare for an uncertain back-to-school season. When school closures first took effect, we asked our educator community what would help them during this time, and took action based on their responses. In addition to expanding our webinar calendar to provide PD opportunities, releasing the long-awaited OzoTown, and providing other bot-free, remote activities for students to practice coding at home, we've been launching a whole new way to engage students with Ozobot Ozobot: our Hybrid 1:1 Program.
As you may already know, Ozobot is trusted in over 30,000 schools to teach all grades and subjects with our 2 Ways to Code, primarily with our Classroom Kits. However, if educators were going to be able to continue to engage students with Ozobot remotely, each student would need to have a bot. Thus, the 1:1 Program began.
As the name says, our new 1:1 Program provides an Evo (with a protective carrying case) to each student, so they can engage in learning at home, or safely use Ozobots distanced from their peers back at school. But that's not all—we know that many teachers will need to adapt for a different learning environment, whether it is reduced class sizes, balancing groups who are in-person and remote, or more. Read on to see what's going on behind the scenes of the development of our 1:1 Program as we seek to do our part to ensure equitable, engaging learning for this upcoming school year.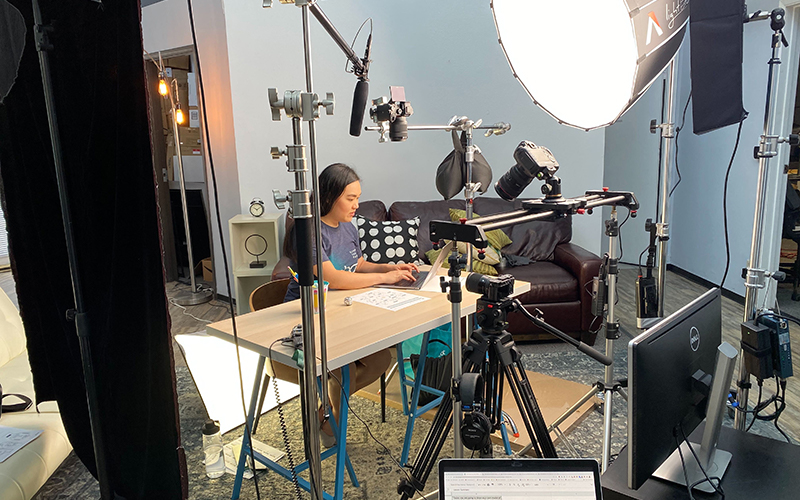 Remote-Friendly Lessons (Including Video Instruction!)
With all that teachers have going on, we hope to take some of the burden of delivering instruction. As such, a team of educators has been working all summer long to create standards-aligned, self-guided lessons for ELA & Math for students to remain engaged in core subjects (without sacrificing STEAM learning). The best part? The majority of the lessons can be completed screen-free to promote equitable learning and prevent screen burnout.
To ensure student success, we have been creating instructional videos to accompany each remote lesson every Wednesday and Thursday (in a socially-distanced, setting, of course!). Our Education Technology & Adoption Specialist, Melissa Toohey, will guide students through their lessons as they complete them at home or school!
Ozobot Classroom Updates (+ Google Classroom Integration!)
When we built Ozobot Classroom with the input of 1,000 educators, no one could have foreseen what the end of the 2020 school year would bring. Our engineers have been hard at work to make Ozobot Classroom useful to all educators, no matter their back-to-school situation, grade level, or subject. One such improvement is our integration with Google Classroom for seamless assignment of our standards-aligned lessons for core subjects. Other updates you can expect are PD credit opportunities and an indicator for remote-friendly lessons.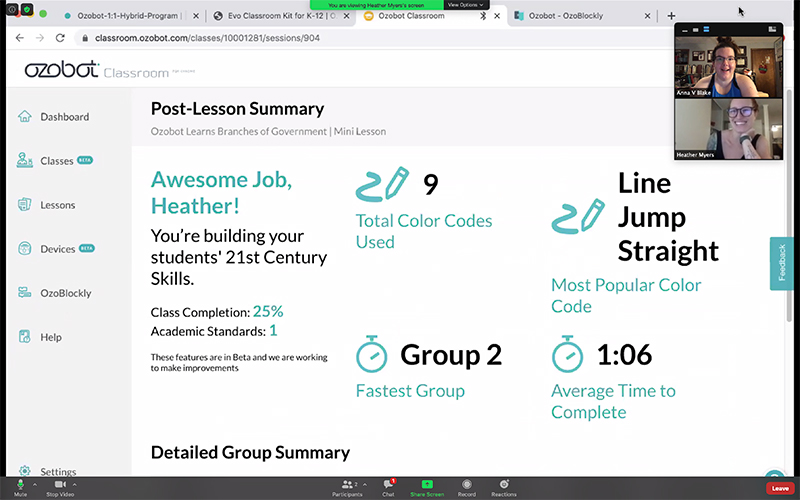 Getting the Word Out
Our Account Executives have been busy helping educators understand what the new 1:1 program means for students and teachers with live demos. Account Executives know that every back-to-school situation is unique, and help educators figure out a plan for in-person, remote, or hybrid learning. They also are available to answer questions about what funding and grant sources cover the 1:1 Program and give you a sneak peek at our remote lessons!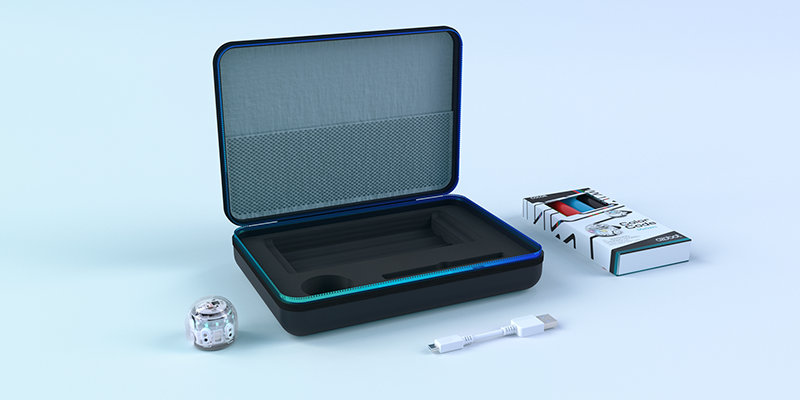 Finding Ways to Protect Your Investment
With each student having a bot at home, we anticipated certain questions from educators:
"What if a student loses or breaks a bot?"
"What if my students don't have access to technology?"
"What happens when my students are back in school?"
"What if I've never used a robot in class before?"
We designed the program with these questions in mind. Our 1:1 program will include a brand-new protective carrying case for students, Worry-Free Bot Replacement, a charging base for teachers, ongoing PD, an expanding Lesson Library with standards-based activities that can be completed screen-free, and more.
We hope you enjoyed your look behind the scenes! To learn more about our Hybrid 1:1 Program, visit our website to book a personal demo with an Account Executive that is familiar with your state!