As 2020 comes to a close, we are excited to announce our final Educator of the Month for the year: Sharon Clark! Sharon is the STEAM Lead Teacher at Haywood County Schools, and she caught our attention on Twitter with thoughtful questions from her students about Ozobot. We just had to get to know the teacher behind these curious learners. What we found is a teacher passionate about bringing STEAM and opportunities to students—and making it FUN!
We aren't the only ones impressed by Sharon! She was recently East Side Elementary's Employee of the Week and frequently presents her knowledge and leads conversations to inspire other educators. We spoke to her recently to get her thoughts on fostering curiosity & creativity in students, funding technology investments for schools, keeping students engaged during COVID-19, and more.

On instilling curiosity and critical thinking in students…
My suggestion for other educators looking to instill curiosity and critical thinking in students would be to first foster that curiosity in themselves by connecting with other educators and community leaders with that same level of passion for the work.  I highly recommend building a professional learning network on Twitter and participating in Twitter Chats. #tlap and #buncee are two of my favorites; but there are so many other excellent chats. Find what's right for you and your students.
I would also recommend applying for opportunities that will teach new skills (or enhance old ones) and connect you to new people. I am a PBS Digital All-Star as well as a Buncee Ambassador. I have been a SEESAW Ambassador in the past. I'm also a member of local organizations within my community that have exposed me to STEAM opportunities for my students and funding opportunities for our Lab. I've found that one opportunity often opens the door for other opportunities that continue to propel students forward.
Some of Sharon's favorite non-Ozobot online tools and resources include:
• PBS Learning Media
• PBS Works
• Seesaw
• Learning Blade
• Scratch
• Edmodo
Sharon's recommendations for funding technology investments…
• DonorsChoose.org  
• Eduporium.com awards a $500.00 grant each month to one educator planning a creative EdTech Project. (I was the lucky recipient of one such grant 9/2019). They also offer a 20% discount on edtech for all educators.
• FirstBook.org awards free books and books at huge discounts on diversity in STEM (and much more) 
• State/local grants: I've also been awarded over $8,000.00 from Tennessee Valley Robotics and Tennessee Valley Authority (specific to TN).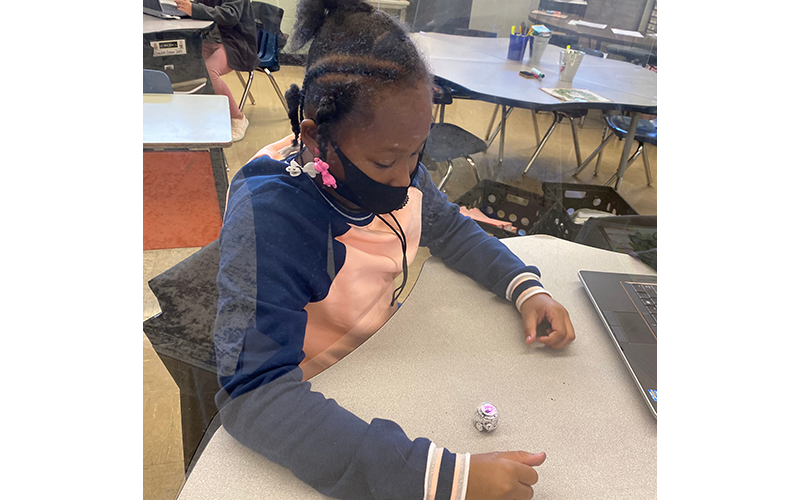 An Ozobot project Sharon is excited to try next… 
A project that I am anticipating this year is for students to create and video "Ozobot Tales." Students will use the engineering design process to plan out a village for Ozobot to live (and work) in while creating a story with Ozobot characters (English/Language Arts) and staying within set criteria and constraints. There will be requirements as to the height and width of buildings, the length and width of streets and roads, the use of angles, etc (math).  Students may choose variable materials from which to construct buildings (science). If time permits, we will have a few virtual meetings with community members who work in STEM fields related to our project.
On getting through the challenges of teaching during COVID-19…
I would like to encourage all teachers and students to take life one day, one moment, one step at a time. We can't control the many changes and turn-arounds that are currently taking place. What we can control is how we respond to those changes. Educators must extend grace to themselves and practice patience with students. We can only imagine the struggles that some students have had to endure in this trying season. The teacher/school may be the only person/place of stability. Be that person that makes someone smile or brightens someone's day. Try to find a bright side in every circumstance. The best way to uplift ourselves is to uplift one another. Know that it is okay to feel whatever you're feeling right now and know that you're not alone. Find your tribe and lean on one another. Check on your people. We're still all in this together. And most importantly, continue to make teaching and learning f-u-n!
Coding is Creative!
Tech skills alone don't spur big ideas—creative visions do. That's why education at home and in the classroom should span science, technology, engineering, the arts, and math (STEAM, not just STEM). Whether you see yourself as a future artist, astronaut, or entrepreneur, our goal at Ozobot is to kick start your creativity and coding skills with playtime that strengthens your whole mind.