Update: At Ozobot, we've been working with districts, teachers, and our extended community to understand education's new challenges with virtual learning, a new in-person classroom experience, and a hybrid of both. The result is our 1:1 Robotics Program, designed for teaching core subjects anywhere without sacrificing STEAM. For a full remote-friendly curriculum of lessons for Math, ELA, and more, check out our new Learn Anywhere Lessons.
COVID-19 seems to be all anyone can talk about right now, and for good reason. Schools across the nation are closing their doors for an undetermined amount of time. Social distancing is extremely encouraged during this time, as the virus is very contagious and can be spread to vulnerable populations even if someone isn't displaying symptoms themselves. 
This can be a very difficult and confusing time for students. Not only are schools closed, but so are most libraries, stores, movie theatres, etc. Many parents are unsure what to do with their kids during this time, and many teachers are scrambling to transition to online/remote teaching on very short notice. 
How can we practice social distancing, but still engage our kids and continue their development in learning during these coming weeks? We've put together a list of online resources for every letter in STEAM to keep your students (or kids!) learning during this time.
Science
The Science Mom has over 21K subscribers on her YouTube channel. Her real name is Jenny Ballif and she has her Masters degree in plant science. The content on her channel includes science experiments for kids, engineering challenges, mini lessons, and more.

Her newest video series, called QuaranTime, is a livestream/online school from 8am-10am PST Monday through Friday during school closures. 
Each show features a science lesson, math activities, interactive games, and stories. Be sure to also check out her website for more free resources!

Technology
Book Creator can be used in any subject, with any grade level. So you should focus on assignments that allow the student to get creative and demonstrate their understanding. This could literally be anything you've been working on in class!
And, Book Creator is offering free upgrades to features that are normally only included in their premium membership. You will be able to have access to these free premium tools for 90 days in their efforts to help educators during this quarantine. 
How fun would it be to have your students (or kids!) create their very own book?! 
Another company offering free access to all features to support distance learning in schools is Kahoot!, a game-based learning platform used as educational technology in schools and other educational institutions. Gamification can help make learning more fun and engaging.  
Engineering
Many teachers have used Code.org, a nonprofit dedicated to expanding access to computer science in schools and increasing participation by women and underrepresented youth. To help your students learn computer science at home, they made extra resources available for free including tutorials, educational videos, and express courses.
ShapeTracer, one of our very own OzoBlockly games, is also a great way to teach engineering remotely. The best part? Your students don't even need Ozobots to play! 
Art
Denyse Lipka Carbonell has over twenty years of experience teaching art to kids of all ages. She has her Masters Degree in Art Education, and just started up a live lunch and learn art lesson series on her Facebook page. Any art supplies you have laying around the house will work for these fun, creative, virtual classes! 
The live lunch and learn art lessons take place Monday through Friday at 9am PST/ 12pm EST.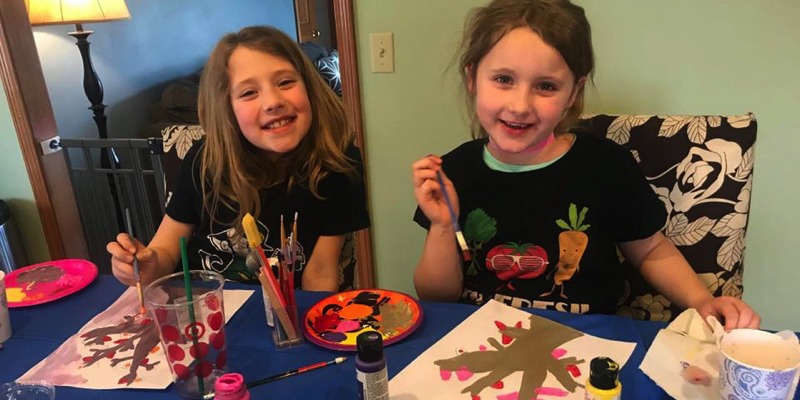 Mo Willems, author and illustrator of the popular Pigeon books, is inviting kids of all ages to his daily Lunchtime Doodles! Learners worldwide can draw, doodle and explore new ways of writing by visiting Mo's studio virtually once a day for the next few weeks. Grab some paper and pencils, pens, or crayons and join Mo to explore ways of writing and making together.
New episodes will be posted each weekday at 1:00 p.m. ET and then remain online to be streamed afterwards. 
We know how powerful music is here at Ozobot. So, Evo created a Spotify to create some playlists to help keep kiddos positive and engaged during this time: Songs to Program to and Social Distancing. Staying home can start to feel lonely, but singing and dancing can keep the spirit alive in your household!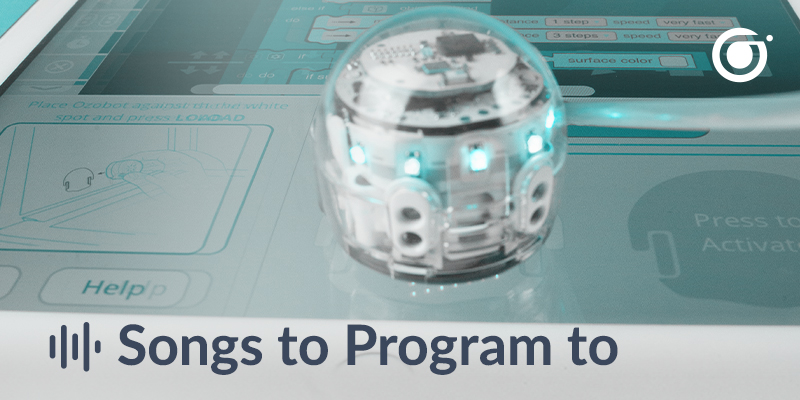 Math
Keep students engaged in Math by checking out the lessons and activities available from Khan Academy. Their resources span across all experience levels, starting from early math, all the way up to trigonometry and calculus.
Apart from these resources, you can also check out a list of companies offering free subscriptions during this school closure period! 
During this time, you can also browse our free K-12 lesson library in Ozobot Classroom to find ideas for screen-free coding with Color Codes, or coding online with OzoBlockly!
You can even check out some pandemic-specific lessons created by Certified Educators, Richard Born and Lisa Richardson: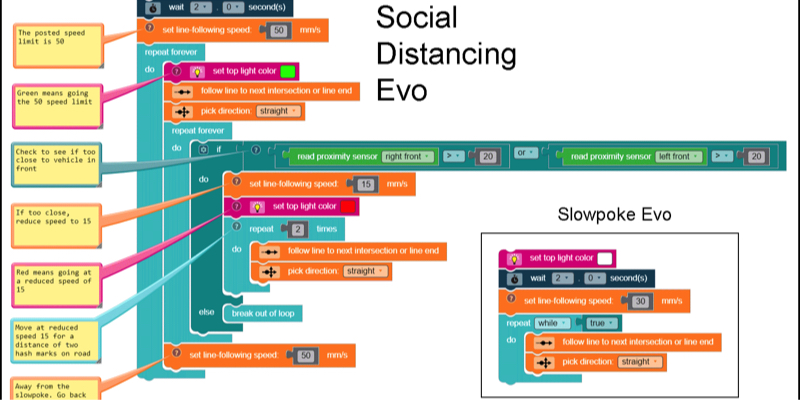 Evo Practices Social Distancing
OzoBlockly
Grades 6-12
Using OzoBlockly, students can demonstrate how to practice social distancing with Evo, in this lesson submitted by Richard Born. Students will be able to explain what social distancing is, and why it is important to practice during the COVID-19 pandemic. If you are a middle or high school teacher, check out all of Richard Born's lessons in Ozobot Classroom for more ideas!
OzoBlockly
Grades 6-12
Lisa Richardson is always coming up with such cool ideas for activities using Ozobot. Her newest lesson brings some light humor to the situation we are all in right now. During the sudden onslaught of grocery hoarding during the COVID-19 pandemic, students must code their Ozobot to travel to several stores to find some toilet paper! This lesson can easily be adapted for younger students using Color Codes, too!
Be sure to check out our new Core Coding Curriculum, which covers five fundamental coding concepts organized by grade level: Sequencing, Loops, Advanced Sequences & Loops, Conditional Statements, Functions, and Variables.