Evo Firmware V.3.1.0 (2022-08-15)
We've got an exciting update ready for your Evo robots! All Evos require this update in order to work with the latest version of Blockly, Python Beta, the Evo App and soon, Ozobot Classroom!
Head over to our blog for instructions on how to update your Evo using Ozobot Blockly and the Evo App.
Evo Firmware V. 2.2.1 (2021-08-04)

We've updated Evo for better Bluetooth compatibility with some Mac computers (due to recent MacOS changes).
Evo Firmware V. 1.17 (2020-05-08)
PLEASE NOTE: To continue using Evo with your Apple device, update to the latest iOS or iPadOS. If you're unable to update and are on iOS 13.4, you can follow the steps below to update Evo's firmware from a computer.
Apple's 13.4 iOS update changed how their smartphones and tablets connect to many Bluetooth devices (including Evo). Our Engineers created a special Evo update to solve it. The power of code! The only catch is you'll need to use your computer for this Evo firmware update.
To install the update and continue using the Evo app to connect to Evo, go to ozobot.com/evo-update on one of the following computers.
Recommended devices:

Apple Mac computer

Chromebook or other Chrome OS computer

Select Windows 10 computers, including Dell Inspiron 15 3000, Dell Precision 7530, Dell Latitude 7400, Dell Latitude 3570, and Microsoft Surfacebook
Recommended browser:
Evo Firmware V. 1.16 (2020-03-25)
We made some improvements to Evo's behavior in Classroom Mode and established charging behavior for the new charging base.
Evo Firmware V. 1.15 (2019-11)
We made some improvements to support the launch of our Ozobot Classroom STEAM software platform, including:
Evo On/Off in Classroom

At educators' request, when running a connected lesson from Ozobot Classroom, Evo's on/off settings change to a long button press (~8 sec, until Evo's top light flashes red) to power off

. This increases accuracy of Live Lesson Insights by reducing the likelihood that students power off during the lesson.

Running a lesson unplugged without Ozobot Classroom? Switch Evo on/off with a single click of the power button as usual.

Help Requested

When running a connected lesson from Ozobot Classroom, a single click of the power button will trigger a 'Help Requested' message on your educator dashboard, so students can ask for help if they're struggling or need your input.

Bug fixes and polish
Evo Firmware V. 1.14 (2019-10-03)
IR Proximity Sensors – Only When You Want Them!

To make Color Code lessons and activities run seamlessly, Evo's proximity sensors are now turned off while line following and executing Color Codes. Take control of Evo's proximity sensors by programming them with OzoBlockly (Level 3+).
Evo Firmware V. 1.13 (2018-12-24)
Need for Speed

Make Evo faster than ever with OzoBlockly, using the new speed multiplier block. Find the speed multiplier block in the Master level, under Movement

Consistent Speed

When performing a U-Turn Color Code, Evo will maintain its current speed (Slow, Cruise, Fast, Turbo) while turning
Evo Firmware V. 1.12 (2018-10-01)
Evo Firmware V. 1.11 (2018-04-26)
We fixed an issue that kept Evo from updating with an Avenger Action Skin on
Evo Firmware V. 1.10 (2018-03-01)
Enjoy enhancements to Evo's audio, new proximity sensor communication support for OzoBlockly, plus bug fixes and polish
Evo Firmware V. 1.9 (2018-01-25)
Evo Firmware V. 1.7 (2017-11-01)
Tricks

Play with Evo's sensors to trigger three tricks–Follow, Music, and Escape. Cover all four sensors until Evo's lights turn green to switch between Tricks.

Experience Pack

As you and Evo complete the Experience Pack, Evo communicates with the app. Earn stars as you go!
Evo Firmware V. 1.6 (2017-08-25)
Voice

Found in the Starting Zone carousel, Voice gives you access to an entire library of Evo sounds and emotions.

Improved line following

Follows green lines more accurately

Better behavior on non-white backgrounds (though white paper is still best!)

Better behavior on sharp curves
To manually check your Evo firmware and update to the latest:
211Make sure you have a recent version of the Evo by Ozobot app installed on your device.

Go to the app's home screen and connect to your Evo.

Tap on your Evo and select More Info. From there, you can tap Run Checkup to check for the latest firmware and Evo features.
Ozobot Classroom (For School)
OzoBlockly is Ozobot's device agnostic visual programming editor, used to teach beginning to advanced programming concepts and principles. It is based on Google's Blockly, and has five skill levels from Pre-Reader to Master. 
Device Requirements
Students can use the OzoBlockly editor on a computer (including Chromebooks) or tablet. The following technology works best with OzoBlockly programming:
All modern browsers

iPads (except iPad Mini)

Android tablets
To create programs:

Step 1: Open OzoBlockly (

ozoblockly.com/editor

) on a computer or tablet.

Step 2: In the upper left corner, make sure to select your bot (Evo or Bit).

Step 3:

Drag and drop colorful blocks of code to write a program for your bot.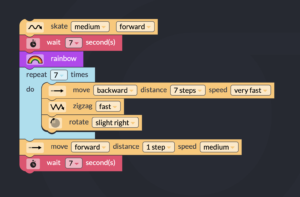 Step 4: Transfer your program to your bot:

Using Bluetooth, found in Programs (Recommended). Available for Evo users using Bluetooth-enabled laptops/computers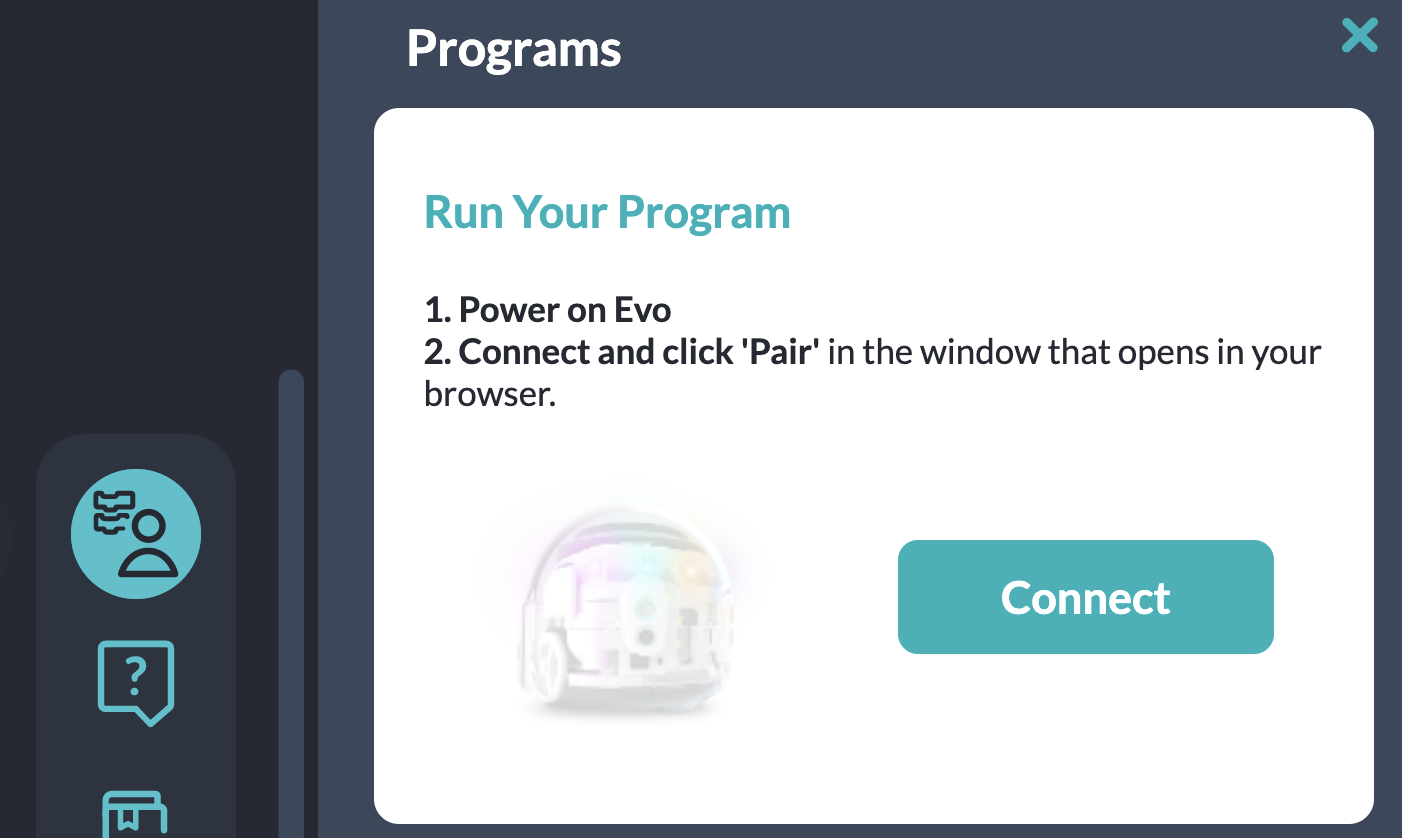 OR using Flash Loading. Recommended if you are using Bit, if your computer is not BLE-enabled, and/or if you are using a tablet.

Step 5: Name, save, and share (optional) your program in the Programs section on the right side of your screen.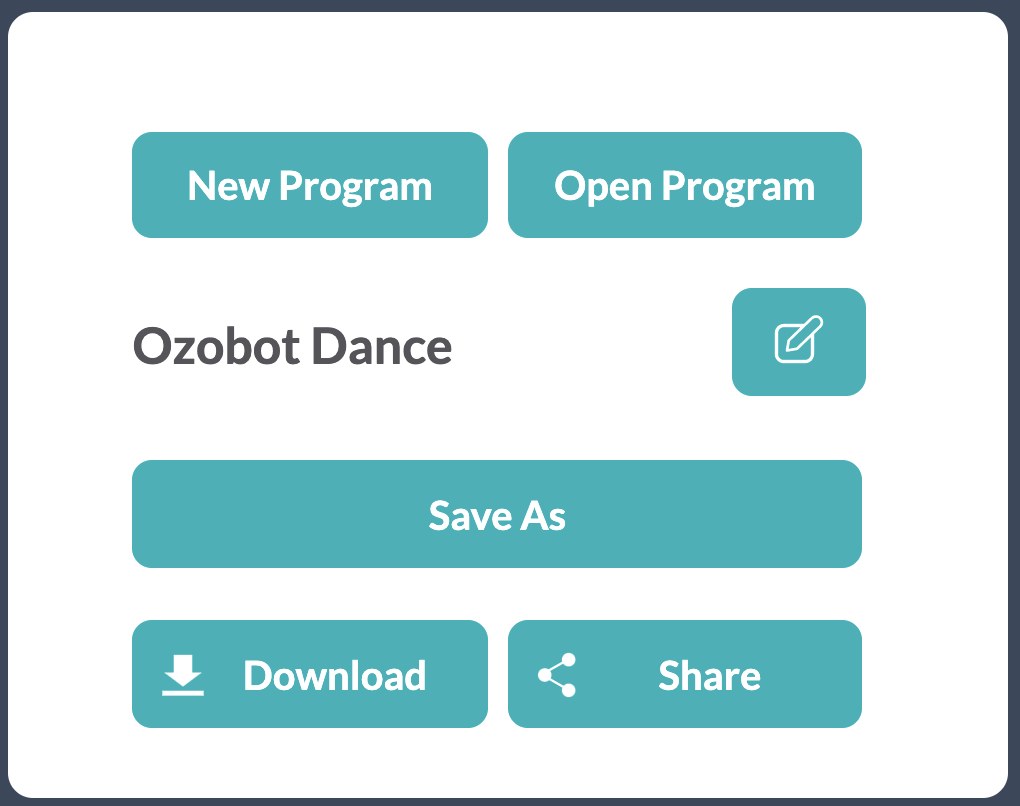 In 2020, we were excited to announce to make instant Bluetooth loading to Evo available on web browsers!
Bluetooth Loading (Recommended) –  Requires Evo and a Bluetooth-enabled computer
Step 1: Create your program on ozoblockly.com/editor
Step 2: From Programs (the top icon on the right of your screen), select "Connect" and follow your computer's instructions to pair Evo using Bluetooth. 
Step 3: Select "Run Program" and watch Evo go!
Flash Loading – For Bit, tablets, and non Bluetooth-enabled computers

Step 1: Click  "Flashing" on the bottom of your screen.
Step 2: Calibrate your bot to the screen:

Set screen brightness to 100%

Press your bot's power button until Evo blinks white

Release power and hold your bot up to the white Ozobot-shaped space on OzoBlockly screen (making sure your bot is still powered on).

During loading, the OzoBlockly screen flashes and your bot's top LED rapidly blinks green.

Start over if Evo blinks red

Step 3: To run your program, double press Evo's power button.
Flash Loading Troubleshooting
If you're having trouble with flash loading, try the following steps:
Make sure your computer or device's screen brightness is at 100%.

Connect your laptop or device to power or edit battery options to favor performance over battery life.

Close any extra browser tabs and applications.

If using multiple monitors, don't interact with any of the screens to avoid frame drops.

If there is glare on your screen, try angling the screen, dimming/turning off lights in the room, or rotating your robot so that the front is angled away from the light source.
Recommended for iOS and Android tablets only.
To load your code from the Evo App to your Evo:
 Step 1: Open the Evo app on your iOS/Android device and connect to your Evo.
Step 2: In the OzoBlockly editor, make sure you're logged in with your Evo app username and password. Login in the upper right corner. Save your OzoBlockly program.
Step 3: Write your program.
Step 4: Navigate to the Account section (the top icon on the right of your screen)
Step 5: Select "Run Program" and watch Evo go!