Practicing self-care is never a bad idea for educators, but it becomes even more important in times of crisis. The COVID-19 pandemic comes with understandable personal stress, but abrupt school closures and the need to adapt curriculum and student care indefinitely compounds the strain for educators.
Some had a few days to say goodbye to students and colleagues and prepare materials for them, while some had no notice at all. Either way, the change was abrupt and very few were prepared for this transition. You may now find yourself juggling your own family obligations with the new scope of your teaching responsibilities, or you may be isolated and missing your community.
Yes, you have a lot to figure out, and you wouldn't have become an educator if you weren't also thinking about how to help your students manage this crisis. We appreciate you. You're a superhero in the eyes of many, but you're also human—and your mental health matters. We want to encourage you to actively allow yourself to practice self-care every day. You have our permission 🙂
Many of these suggestions come from Kristen Albright, a STEM Teacher at State College Area SD and Ozobot Certified Educator, as well as Abi Basch, the MUS Director of Experiential & Service Learning at The Buckley School and Doctoral Student at UCLA. As part of our expanded webinar series during school closures, we recently explored the topic of self-care during a Distance Learning Tips webinar. This may not come naturally for you and we don't have an exact formula, but we do have some suggestions. Please feel free to comment with your own suggestions for other educators! Together, we can get through this and come out stronger than ever.
Be Kind and Forgiving to Yourself
Albright told us, "Trying to take some time for yourself is so important. Realize that you're not going to be able to do the same level of instruction that you do in your classroom every single day. And be kind to yourself. This is all kind of new to most of us in this country. Take time for yourself to relax or binge-watch—whatever you need to do."
Basch agrees. "[I need to be] gentle on myself when a lesson doesn't go right. The kids are starting to go stir crazy. They're going as crazy as the rest of us. They're figuring out how to balance learning online and still trying to pay attention, so [being gentle on myself] is important, too."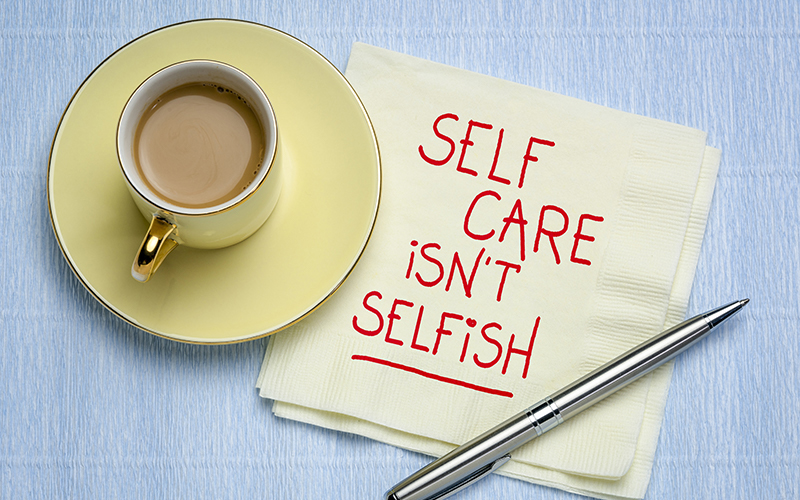 Journal About Your Experience
Many educators are already having their students journal as a way to reflect during this time. "Journaling is a really great way to keep tabs on your own feelings," says Albright. "I think it's great for reflecting as well—thinking about what you're afraid of or things you're concerned about—and just being able to get those down on paper."

If you're looking for good journal fodder for this time, check out these Safer at Home Self-Care questions from Noelle Kinman, MSW. It may be more difficult now to focus on what you're grateful for (by all means, give yourself freedom to feel and express frustration!), but it is a good time to practice gratitude for the improved physical and mental health benefits.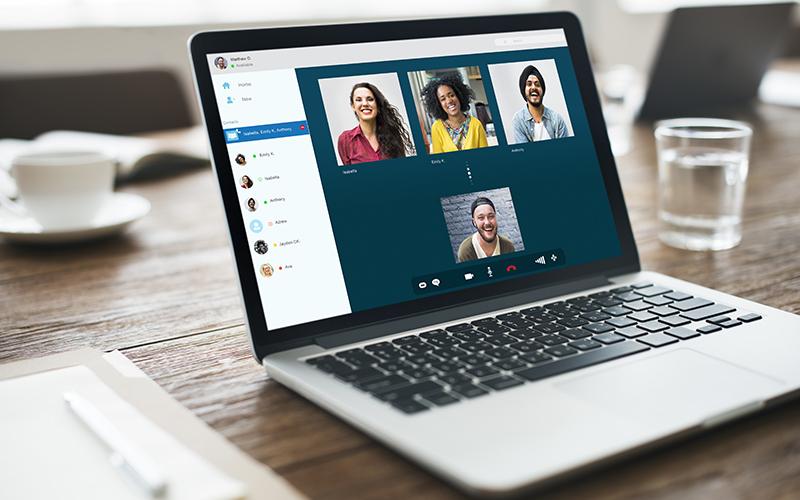 Virtual Hangouts
Zoom and other virtual meeting platforms may be helpful educational tools, but they can be leveraged for lighter social interactions. Albright says, "We've done some fun hangouts with other educators and friends. We have these great tools that allow us to play games with people across the country and visit with family and friends. Taking advantage of some of those tools for non-educational purposes really seems to help."
Go on Long Walks
Basch says "I have a dog that is a great excuse to go on long walks." Going on walks is an opportunity to change up your environment and clear your head for better cognitive functioning when you are working. Of course, follow your city's guidelines for maintaining physical distancing.

Virtual Exercise Classes
There are a variety of exercise classes available online. Many platforms are offering free trials during this time or live streaming free workouts. DownDog is offering free online exercise classes for educators and students until July 1!
Basch told us, "I've started doing online yoga, which has been really nice." Have you been wanting to try something new? Now is a good time to find a new type of exercise—while benefiting from those extra endorphins.
Give Yourself Permission to Set Boundaries
The experiences educators are having with their students at home is varied, to say the least. Some may be experiencing parents who think teachers are available for questions all day, while some may be trying to simply get a hold of students and their parents.
Set expectations for parents by emailing them about the time you're available to help
Make a shared calendar where parents and students can book time with you within certain hours
Treat Yourself
We've seen how eager you are to take advantage of deals companies are offering to make distance learning possible. Take some time to find ways you can treat yourself. Draper James is offering a free dress to a limited number of teachers as a way to show their appreciation (be sure to apply by April 5!). We'll be sure to update this post if we see any other educator-only freebies.
If you're looking for a wardrobe refresh for your living room or your neighborhood walk, J.Crew, Madewell, and Rothy's always offer discounts for educators. Finally, for teachers interested in some home-improvement projects, Overstock.com gives a free premium membership with special perks to educators.
COVID-19 makes practicing self-care for educators more important than ever. These are just some ways educators can be kind to themselves, set boundaries, and take advantage of technology and virtual platforms. For more tips for educators during this unprecedented time, keep an eye on our expanded Webinar Calendar.