Christine Thai-Pappa is a National Board Certified Teacher whose love for her students and desire for them to succeed is readily apparent to everyone that comes in contact with her. If that weren't enough, she is an inspiration to her fellow teachers (check out her webinar about co-creating a virtual Ozobot coding club to get her students hands-on with STEAM during virtual learning!).
We were excited to speak with her and find out what motivated her to become a teacher, how she and her students navigated virtual learning, her favorite Ozobot projects, and more.
On becoming a teacher…
I started out thinking I would become a lawyer. I worked in law firms to explore this option after college, while also volunteering on Sundays at my church as a teacher to Kindergarteners. I quickly figured out that my favorite part of the week was working with those kids. Teaching is what gave me joy. It's so much about those connections; building relationships where the kids know that as you are ushering them towards academic achievement, you are also looking out for their overall well-being. The opportunity to be a champion for those kids. You get a chance to make an impact by letting them know that, no matter where they may go in life, there is someone out there who believes in them and loves them.
On teaching during the pandemic…
My school year began completely virtual. I teach third grade and we met completely through zoom and used Canvas to organize their assignments and learning opportunities. Thankfully, there were so many awesome resources available to engage our students virtually. I was very impressed with my third graders' abilities to adapt and maneuver through Canvas, zoom, and all things virtual. It was tough but they were resilient. In January we began back in the building on a concurrent model with half our class coming in every other day while the other half logged in through Zoom. Being back in person presented new challenges but it was so nice to get to see them in person. These kids have just been so strong this year and they continued to work hard. Through all models, we were still able to build a community where we share class jokes, care for each other and celebrate each others' successes.
On the importance of giving all students access to STEAM education…
I believe STEAM is an opportunity to build future skills – the importance of failing, reevaluating, and trying again. It builds critical thinking, teamwork, and highlights so many different talents and skills from each student. I have seen it bring success to learners who may struggle in other academic areas and build self-confidence. STEAM education isn't just some fun fad but rather it leads kids to create, problem-solve, collaborate, and express themselves.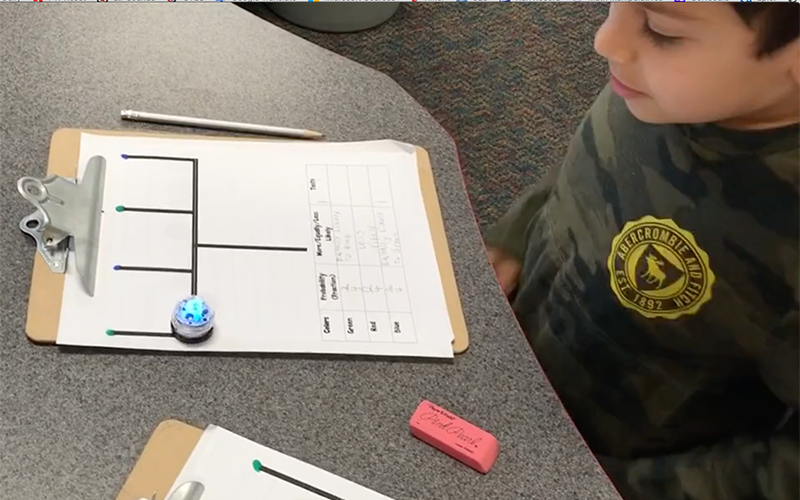 On her favorite Ozobot projects…
I just love Ozobots! So many reasons. How cool is it to have this little orb that lights up and moves around at your design? I love the lines and Color Codes that eventually grow to the block coding with Ozoblockly. One of my favorite lessons was the first lesson I ever put together to do with my students on Probability. It was such a simple lesson but that made it accessible and easy to follow. My students were immediately enthralled by the Ozobot and instantly focused on tallying their outcomes as the Ozobot randomly chose different paths and lit up red, blue, or green.
More recently, I really loved using the Lunar New Year lesson. My students were ready to think through using color codes to direct the Ozobot's path to optimize the red envelope collection. They also loved dressing up Ozobot in the lion costume.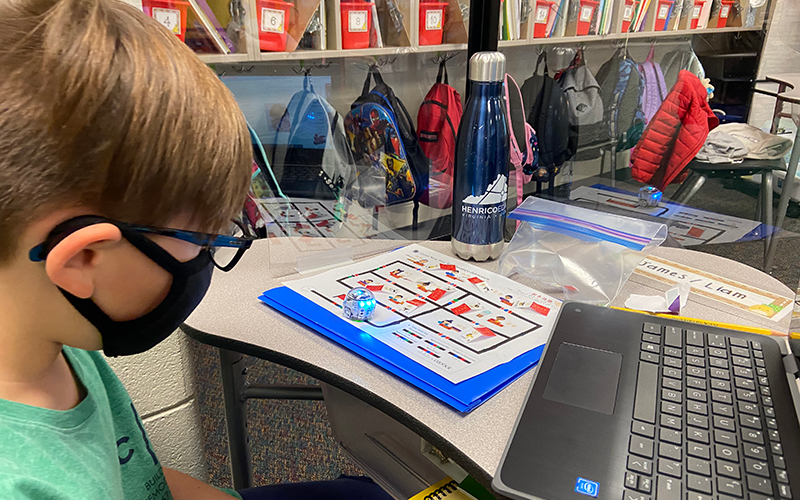 Christine's advice to teachers who are just starting out with Computer Science and STEAM…
It's ok to start small. The world of CS and STEAM can be so big but starting small and slowly increasing your "tool belt" is the best way to not become overwhelmed. It can be so fun for learners as young as 3 to draw lines and watch the Ozobot travel the path. It's simple, small, but engaging and rewarding. Or start with "paper engineering" and have kids use paper in varying ways to create movement with pop-ups and turns with a brass brad. We all have access to paper.
Want to hear more from Christine? Follow her on Twitter!
Coding is Creative!
Tech skills alone don't spur big ideas—creative visions do. That's why education at home and in the classroom should span science, technology, engineering, the arts, and math (STEAM, not just STEM). Whether you see yourself as a future artist, astronaut, or entrepreneur, our goal at Ozobot is to kick start your creativity and coding skills with playtime that strengthens your whole mind.